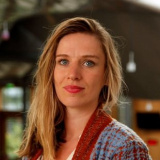 The Land-Food-Rights Nexus
Dr Kirsteen Shields
In our latest blog, Dr Kirsteen Shields – Senior Lecturer in International Law and Food Security at the University of Edinburgh, at the Global Academy of Agriculture and Food Systems – reflects on the most recent discussion of the Land and Human Rights Forum (LAHRAF), exploring food systems' concerns related to land and their impact in the context of human rights.


On 28 September 2022 the Scottish Land Commission's Land and Human Rights Advisory Forum (LAHRAF) met to discuss food systems concerns related to land. The global industrial food system has come to be discussed and understood in isolation, as though severed from land, yet increasingly, we see that food crises are rooted in land use decisions.
The war in Ukraine, the 'bread basket of the world', underscores how the economics of comparative advantage has led to agricultural monocultures that reduce food security and resilience. Scotland, like everywhere, is locked into a global food regime that is environmentally and socially exploitative, and increasingly vulnerable to global shocks in supply chains. Decades of prioritising food imports (i.e. importing ready made food products) over diversifying domestic food production (i.e. through diversifying farming) has effectively severed land debates from food. Globally, environmental and health crises are now driving governments to devise new food system strategies (see proposals for a new Agricultural Bill (Scotland), and the 2021 UK National Food Strategy). Yet new food strategies often remain disconnected from land use debates and focus predominantly on food consumption rather than production.
As well as pragmatic reasons (such as the disruptive effects of climate change and conflict on global food trade, see e.g. Tim Lang, 'Feeding Britain', 2021), there have always been strong moral reasons attached to what is sometimes called agricultural 'improvement' (see e.g. Adam Smith, 'The Wealth of Nations', 1776). Today, those moral rationales are sometimes framed in terms of human rights. In light of the commitment to international human rights standards within the Scottish Land Rights and Responsibilities Statement, the LAHRAF considered how agricultural land and food production can be understood in such a context.
Food production is relevant to a wide range of human rights, including the right to work, the right to cultural life, the right to education, the right to food, the right to a clean environment, and global and intergenerational justice. Food production also plays an instrumental role in food availability and access, which in turn determine diets. Better diets are key to better health, which can be framed as the right to health. All these rights must be balanced within the wider context of property rights, not just of landowners but also of the corporations who monopolise food systems.
One area that would seem ripe for reform is increasing land area available to grow fruits and vegetables. Across the UK, 'fruits and vegetables' has the largest trade deficit at £10.2bn (DEFRA 2020). Of the total agricultural land in Scotland, less than 1% is used to grow vegetables (excluding cereals, barley and wheat) of which around half is used for stockfeed and less than 0.1% (0.039%) is used for soft fruit growing (Scottish Agricultural Census 2021). Some forms of sustainable fruit and vegetables growing tends to be done on smaller land areas – this is very hard to access in Scotland's existing, highly concentrated land market dominated by very large estates.
The LAHRAF discussed the different drivers to reform such as:
Generating demand for local produce through public procurement of local food to enable small producers to thrive. (See, for example, the BioCanteens Transfer Network in Europe, which was inspired by the municipality Mouans Sartoux, France, procuring land to provide organic school meals in the region.)
Regulating land markets to allow the transfer of land to more efficient producers, as is common practice across Europe. (See, for example, the French SAFER model that monitors farm land sales and intervenes when needed to make the sale best suit France's agricultural cultures and objectives.)
Enabling win-wins for the environment and food security for example through agro-forestry, agro-ecology and regenerative farming.
Obstacles to changing agricultural land patterns were also discussed: data gaps around the quality of agricultural land in Scotland enable a persistent impression that Scottish land is only good for grazing; an overarching land use plan for the whole of Scotland that balances the needs for housing, energy production, forestry, and agriculture, optimises their locations is also missing; and due to long term decline of small scale production there is no longer a generalised culture of eating local which makes it difficult for small scale producers to scale to survival levels.
These obstacles could be framed as opportunities for re-imagining agriculture in the 21st century, drawing on traditions of agricultural innovation—from the agricultural Enlightenment to the ingenuity and perseverance of crofting communities in Scotland.
At the heart of land reform in Scotland, the Scottish Land Commission has a key role to play in reforming agriculture, but the responsibility is shared with those who have power in the food system, especially landowners and retailers, for there can be no food systems transformation without agricultural land transformation. Without concerted effort and action, as UN secretary-general Antonio Guterres said at the opening of COP27, "we are on the highway to climate hell with our foot still on the accelerator".



The author wishes to thank the LAHRAF and Olivia Oldham for thoughtful discussion and comments.