Community Wealth Building
Our guidance on community wealth building sets out practical actions that public bodies can take to use and manage land productively and in the public interest.

Community wealth building (CWB) is a people-centred approach to local economic development, which redirects wealth back into the local economy, and places control and benefits of assets and resources into the hands of local people. Putting people at the centre of our local economies is at the heart of community wealth building: making sure that control of assets and resources, and the benefits they bring, are in the hands of the local people can help keep the wealth generated in the local economy – creating a fairer, greener, and more equal Scotland that empowers communities to bring about positive changes.

How we own, manage, and use our land is key to community wealth building and forms one of five pillars of the CWB approach: spending, inclusive ownership, fair work, finance, and land and property.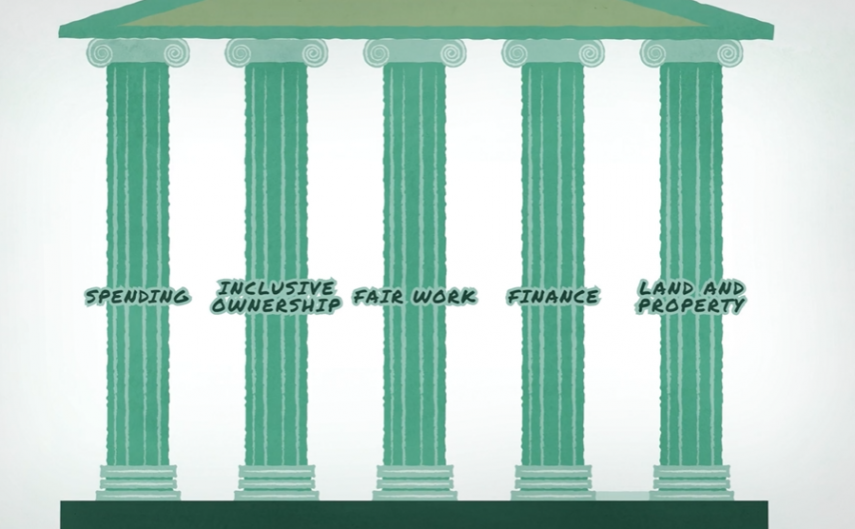 These pillars help organisations to understand the changes they can make to build a strong local economy that works for everyone. Our guidance deals with the 'land and property' pillar.

Underpinned by the Scottish Land Rights and Responsibilities Statement, the land and property pillar is about owning and managing land and buildings in a socially just way that grows the social, financial, environmental and economic value that local communities gain from the assets.
Our guidance for public bodies that own, manage, use, and influence the use of, land and buildings in Scotland, along with our case studies and list of useful resources and references, helps organisations to take actions that support community wealth building.
Case Studies
The case studies below demonstrate good practice in relation to the areas for action identified in the Community Wealth Building and Land guidance:

a) Supporting net-zero ambitions and sustainable development: Taking and implementing decisions, use and management in ways that promote good stewardship
b) Positive management of land and assets: Proactively managing your estate
c) Productive re-use of land and buildings: Proactively addressing vacant and derelict land
d) Collaboration and partnership: Engaging with your community and involving others in decisions about land and buildings
e) Supporting economic growth and community aspirations: Promoting and enabling diversified ownership and management of land and buildings, including community ownership

f) Sharing information: Being open and transparent about land and buildings and about decision-making processes and plans.