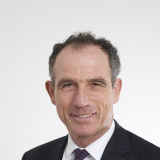 We must up the pace and scale of change!
Andrew Thin
In this blog, Scottish Land Commission Chair, Andrew Thin, looks at how we can rethink the way we own, manage and use land to support a fair and green recovery.
Scotland's shared national focus over the coming three years will be recovery and renewal following Covid-19. The Land Commission has, today, published its second Strategic Plan setting out how we will support a fair and green recovery to a 'wellbeing economy'. To create a Scotland which promotes inclusive economic growth, reduces inequality, supports climate action and a just transition and empowers people and communities to bring about positive change.
The ways we own and use land are central to our national ambitions for climate action, improving infrastructure, regeneration and growth, and to giving regions, cities, towns, communities, and individuals the power to bring about change. But we need to meet the pace and scale of change needed and make these changes in ways that are fair and create economic opportunities.
Scotland's recovery plans give us an opportunity for change, and action is needed to transform the nation's economy. Our new strategic plan focuses on where land reform can make the biggest difference to encourage change, recovery and renewal.
We have a fixed amount of land, but the list of demands on that land is ever increasing. We need to share the benefits from Scotland's land more widely across our growing and changing population. To do this we will work to:
Reform land rights and ownership to encourage a more diverse and productive pattern of land ownership, facilitating new models of control to widen the range of people who can benefit from land rights
Drive change on the ground in how land is owned, managed and used, helping people and organisations to implement in practice the principles of the Scottish Government's Land Rights and Responsibilities Statement
Reform land markets including potential changes to the tax system to support recovery and renewal, reviewing how land is valued and identifying practical options to ensure land is better used in the public interest.
Land reform means making changes to the framework of land rights, ownership and use, and the way land markets work. It is about changing laws and policy, as well as culture and practice. Land reform is relevant to all of Scotland's land and people, in both urban and rural areas. The Scottish Government's Land Rights and Responsibilities Statement provides a powerful framework to guide this reform.
So much of Scotland's wealth and potential is held in our land. But without reform – without bold action – Scotland will not be as successful as it could be.