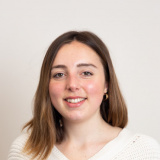 Blog: The Value of Early Engagement
Kathie Pollard
As part of the Review of Land for Housing and Development, Scottish Land Commission Policy Officer Kathie Pollard and planning consultant Nick Wright look at the benefits of getting communities involved earlier in decision making on plans to help produce better places, speed up delivery of new developments and shape the quality of the places that Scotland needs.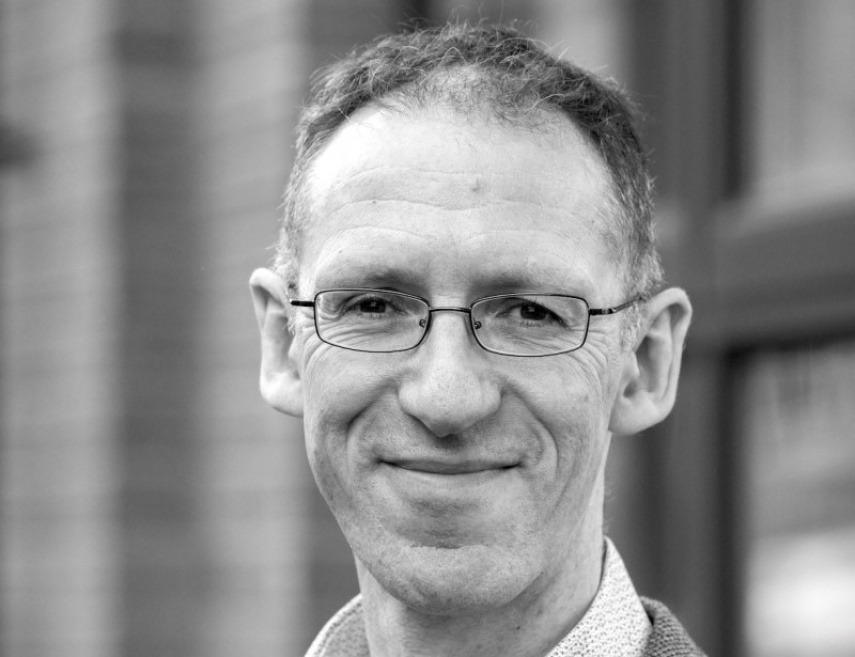 The principle of early public engagement is enshrined in major reforms in Scottish planning, community engagement and land reform policy. The Land Rights and Responsibilities Principles tell us what responsible and reasonable land ownership, use and management should look like and seeks to embed these in practice across urban and rural Scotland. How we engage communities in decisions relating to land is core to these principles.
If early engagement is such a great thing, why isn't everyone doing it and why is there still scepticism, across all sectors, about it and how can we meaningfully engage with communities that are affected by decisions about land use?
Nick Wright Planning and Steven Tolson were commissioned by the Land Commission to investigate the benefits of early engagement in land use decisions to help us identify to how best to support the relationship between communities and decision-makers in land use planning to produce better outcomes.
The aim of the research was to get beyond the belief that early engagement is a good thing to generate evidence of the benefits that it can generate for everyone, developers and landowners as well as communities. By doing that, our intentions were to:
Tackle sceptical attitudes by providing positive examples of the benefits of early community engagement from within the landowning and development industry.

Influence how community engagement in land use planning can be designed and implemented through policy and a programme of good practice focusing on responsible land use, ownership and management.
So what did we learn from across the development industry?
During early 2020, 44 interviews were undertaken with developers, landowners, consultants and others involved in planning and development. During the interviews, a huge range of developments were discussed: large and small, greenfield and brownfield, from inner city to rural, and residential to commercial. Eleven of those were developed as case studies in the full report, together with a summary of how communities can engage in the planning system, currently available advice and guidance, and a policy and literature review.
Firstly, participants' current experience of community engagement revealed ten recurring themes, which are shown in the accompanying diagram. These suggest that the system we have could work better.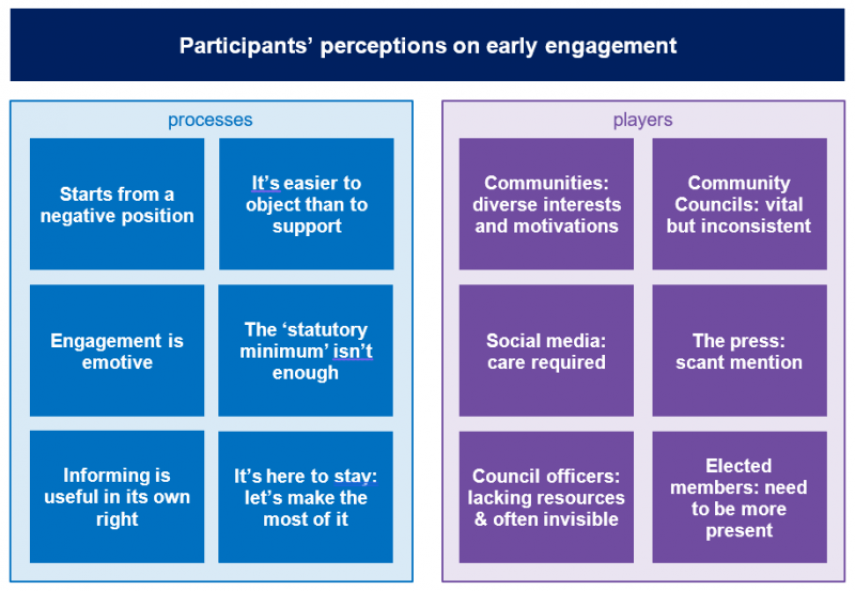 Secondly, when participants described what good engagement looks like, a number of common characteristics emerged. What they said is summarised in the diagram below, with more detail in the report.

Whilst not every developer or landowner does all of these things, in the round they show a good understanding of good engagement in line with current guidance like the National Standards for Community Engagement and PAS SP=EED.
Thirdly, we asked developers, landowners and their agents about the value and benefits of early public engagement. The results were fascinating. Across the board, these common benefits emerged:
The discussions about value also generated interesting information about the financial costs of engagement, which is contained in the report. One participant made this point:
"Often developers balk at the value of engagement, not the cost – particularly where community conversations are less mature."
Overall, the study revealed plenty of good examples of early engagement in the development process, and credible evidence of its value and benefits. Ongoing reforms create an opportunity to rectify this situation, by putting in place secondary legislation and guidance which create a collaborative framework for early engagement, involving developers and landowners working together with planning authorities and of course communities. The report sets out a practical, positive and deliverable framework for this to happen, the main points of which are:
Pre-Application Consultation should take place much, much earlier.
New 'National Standards for Community Engagement in Planning' should be developed.
Engagement is a collaborative endeavour that should involve local authorities, developers and communities working together to deliver the Local Development Plan.
Resources will be needed – the report points to some ongoing discussions around how land values can be shared.
For those who think developers are not ready for a more mature approach to community engagement, they should think again. In the words of one developer:
"If we're talking about making the consultation more relevant and less of a box-ticking exercise, and if there's guidance going to come out on that, then I don't think you're going to get much resistance from the housebuilding sector."

The findings have important lessons that cut across sectors. The Land Commission intends to build on these recommendations through its Good Practice programme and the wider work to reforming the housing and development land market so that it delivers better outcomes across all of Scotland.
Planning Skills will be running a webinar to present the findings on 17 June from 2-3pm. Sign up here.

The research study was carried out in early 2020 by Nick Wright and Steven Tolson.

A summary of the report can be found at this link.