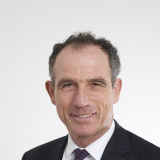 Land reform is happening
Andrew Thin
In this latest blog, Chair of the Scottish Land Commission, Andrew Thin, reflects on the recent 'Attitudes to Land Reform' report and the role of land reform in creating a successful Scotland.

Land reform is wanted by the Scottish people and it is happening. The Scottish Government recently published the findings of research into 'Attitudes to Land Reform'.

We have long realised that, while the term 'land reform' is only recognisable to those with a specific interest in this area of policy, in fact land – and the way it is owned, managed and used – impacts every part of everyday lives across the country, no matter where you live.

The report found that although participants did not automatically connect with the term 'land reform' many did have a broad awareness of the current challenges, referring to "concentrated land ownership, absentee landlords, housing developments encroaching on the green belt, derelict land, land banking and disputes over access rights." This reflects our own experience in the public meetings we hold around Scotland where examples of these and other issues are regularly raised.

These issues remind us that land reform is not a niche interest, but something that is central to creating a successful and thriving nation. It is also a continuous process where the legislative, policy and cultural framework within which land is owned, managed and used evolves to keep up with a rapidly changing society. The pandemic has laid bare stark inequalities across our society, and land reform can ensure we make better use of our land to deliver value for the people of Scotland.

It is clear people feel strongly about changing the land system, with the research highlighting the "evident appetite among the public for greater involvement in decisions about land use." With land rights come responsibilities, as outlined in the Land Rights and Responsibilities Statement that promotes greater diversity in ownership of land, high standards and transparency of land ownership and use, and better community engagement in decisions about land.

Most participants (71%) said that they supported Scottish Government's plans to diversify land ownership. An effective framework of land rights and ownership is central to empowering communities and supporting a resilient economy. We have made proposals to address the impacts of Scotland's concentration of land ownership, based on ideas which are normal in other countries and sectors to help markets operate effectively and safeguard the public interest. Our work on potential reforms to the tax system supports town centre regeneration, active land use and diverse ownership.

Diverse availability of land and buildings allows businesses, organisations, individuals and communities to pursue a range of projects. Our Land Rights and Responsibilities protocols outline how landowners can help to create these opportunities and work together with communities to make better – and fairer – decisions about land use. Our work on community ownership points to what is needed to make this a normal option across Scotland. Learning from international experience, we are also looking at different models of governance to encourage shared control of land and wider individual ownership.

The research also reinforces that land reform is not just a rural matter. The survey revealed that 44% of the public is concerned about vacant or derelict land in their own area. Bringing abandoned and unloved urban places back into use brings a wide range of benefits to communities, including helping tackle climate change, improving health and wellbeing, creating more resilient communities and rebuilding our economy. The Vacant and Derelict Land Taskforce made recommendations to Scottish Government to transform Scotland's approach to tackling the legacy of derelict land and ensure it is no longer acceptable to allow land to fall into long term dereliction. The announcement of the new £50m Vacant and Derelict Land Fund highlights the significance and potential for land reform in urban Scotland.

It is clear that people in Scotland see the deep connections between land and many aspects of their lives. Recent public policy publications reflect this in highlighting the importance of land reform in unlocking opportunities across many different policy areas. For example, these connections are recognised in the recommendations from the National Taskforce on Human Rights, the Regional Land Use Partnerships pilots, the Public Health Scotland report on Environment and Spaces Group, and Scottish Government's Housing to 2040 strategy.

We have a fixed amount of land, but the list of demands on that land is ever increasing. With the public appetite evident in the recent research and increasing public policy clarity on the role of land, Scotland's land reform journey is continuing at pace – making the most of our land for everyone.