National Student Award 2021 opens for entries
The Scottish Land Commission's National Student Award 2021 has opened for entries.
Designed to encourage young people to get involved in land reform and contribute to the Commission's work, the single award of £1,000 is open to all students studying at a Scottish academic institution.
The Commission is shaping the debate around urban and rural land reform to create a fair, inclusive, and productive system of ownership, management and use of land that delivers greater benefit for all the people of Scotland. Research underpins its work so that decisions and recommendations are thoroughly evidence based, relying on a wide academic network to provide research on key land reform issues. The Commission introduced the annual award to help inspire the next generation of researchers.
The student award is open to any student studying at a Scottish academic institution who undertakes a land reform related piece of research.
The Commission is working on a number of exciting projects in its Strategic Plan –covering everything from reviewing land valuation to exploring the interaction of human rights – and the successful student will contribute research to help take forward the Commission's work. Research areas of particular interest this year are:
Landlord-tenant mediation in the agricultural holdings sector
Public sector led rural housing developments
Community led regeneration of vacant and derelict land
Reuse of 'stuck' vacant and derelict sites to meet Scotland's national policy priorities
Alternative models of land ownership, tenure, and control.
To apply for the award, which has a new focus on case studies, students are required to explain how they propose to undertake their project, how it will connect with one of the workstreams of the Scottish Land Commission, and how it will benefit the student and enhance their student experience.
Speaking about the award, Hamish Trench, CEO of the Scottish Land Commission, said:

"The way we own and use land is central to Scotland's big policy issues such as reducing inequality, supporting climate action and giving people and communities in Scotland the ability to bring about positive change. We want to develop new approaches to make the most of Scotland's land and help to build future research capacity to support land reform. The student award gives young people the opportunity to get involved in this – exploring, researching, debating, challenging, and generating change – is key to developing future leaders in this field."
Heloise Le Moal is the 2020 recipient of the Commission's national student award and used the award to explore comparisons between community forestry in France and in Scotland. The Commission has today published her report, Municipal Forests vs Community Woodlands – Three case studies in Le Mans (France) and Inverness (Scotland).
Heloise said: "This experience really helped me to get a better understanding of Scottish as well as French democracy and land use, and I am really grateful to have received the Scottish Land Commission Student Award without which I would never have carried out the research."
To find out more and download an application form, interested students should visit the documents below. Applications close on Monday 19 April 2020.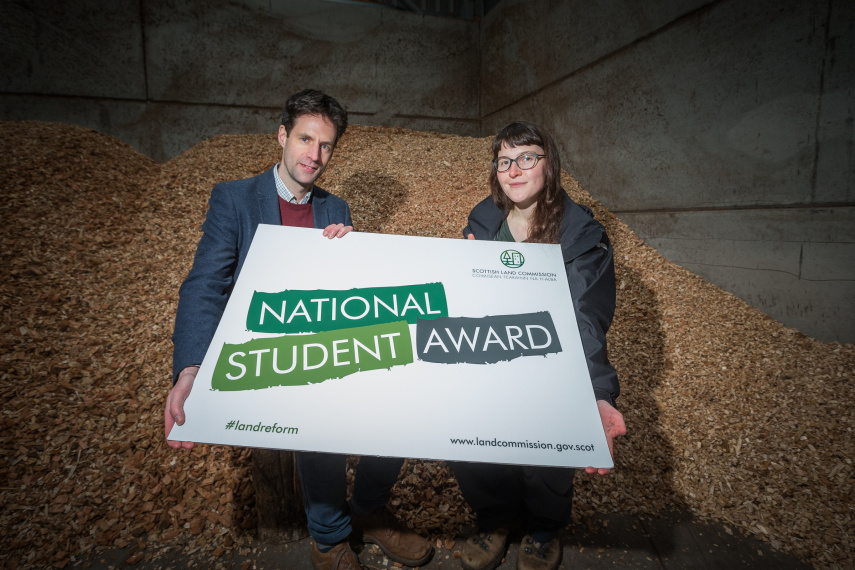 2021 National Student Award Application Form
National Student Award Winner 2020 Report