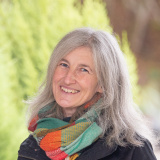 Shifting demands on land mean the only certainty is change – Let's make sure it's the change we want
Karen Grant
In our latest blog, Good Practice Adviser Karen Grant reflects on the importance of genuine engagement with stakeholders and communities in decisions that affect our natural capital.
Two years into the pandemic, beset by the effects of climate change, serious threats to biodiversity, a cost-of-living crisis, and a devastating war not so very far away, it could be said that the appeal of sticking our heads in the sand has never been greater. However, these crises can also be seen as a time to shift momentum and set ourselves on a more sustainable track.

In the rush to find solutions, we must do our best to avoid unintended consequences. Joined-up thinking in land use decision-making has never been more important, and that means engaging effectively with stakeholders and local communities so we can ensure that the solution to one problem does not become the cause of another.

Land carbon finance is beginning to have significant impact on land use decision-making. The Scottish Government has expressed a commitment to values-led, high-integrity land carbon markets, with the aim of ensuring that these projects do not negatively affect other sustainable land use considerations and make a genuine contribution to a just transition to net zero.

At the Scottish Land Commission, we are working to support good practice in the management of land carbon projects. The UK Land Carbon Registry currently records data from projects registered within the Woodland Carbon Code and the Peatland Code. In time those will be joined by new codes such as the UK Farm Soil Carbon Code. We contributed to the recent revision of both the Woodland Carbon Code and the Peatland Code, and the new versions are more closely aligned to the Scottish Government's Land Rights and Responsibilities Statement (LRRS), referencing the accompanying protocols and guidance. The latest version of the Peatland Code adds a guidance document to aid users and includes a section on consultation which was developed in line with our Protocol on Community Engagement in Decisions Relating to Land. The Woodland Carbon Code now directs project developers based in Scotland to our Protocol on Community Engagement and requires stakeholder consultation as a precondition for validation and verification of projects. In the case of the Woodland Carbon Code, where woodland creation projects represent a permanent change in land use, projects may also be subject to scrutiny of their stakeholder engagement through the requirement for an Environmental Impact Assessment or the conditions of funding through the Forestry Grants Scheme.

Any stakeholder, land owner or manager, or investor can approach us for good practice guidance and support in aligning their project or investment with the LRRS, which is designed to help improve the outcomes of all land use decisions. A key principle is that of meaningful engagement with communities to ensure that local knowledge and the impacts and potential opportunities of land use change are considered. A dynamic relationship between Scotland's people and the land means that communities have better access to its benefits and opportunities. This deepens public understanding of the natural world, and of rural issues, so people across the country are better placed to support well-rounded decision-making when they see it in action. Good transparency about ownership, decision-making and use means that all land managers should have a strong sense of accountability and commitment to the responsibilities that are part of land ownership and management.

Everyone in Scotland's interest is valid in how decisions are made about our natural capital. Good decisions will be made when we listen to stakeholders and local communities, and build understanding across sectors to ensure the best outcome.