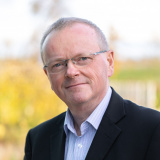 The future of community ownership
Lorne MacLeod
Scottish Land Commissioner, Lorne Macleod, looks at the future of community ownership following the publication today of the Commission's recommendations to Scottish Ministers.
The ability of communities to own the land on which they live and work has long been central to the land reform agenda in Scotland. With more than 562,000 acres of land in community ownership, many parts of Scotland already have control of their local land asset.
We have published a report today which looks at how this can continue to grow and for community ownership to become a normal and realistic option for communities across Scotland. The sector is developing rapidly, and to become a normal option for both urban and rural communities there needs to be a clear vision for the way in which community ownership matures over the coming decades.
The report was informed by research from a team at Scotland's Rural College which considered the experience of community ownership in Scotland over the last 25 years.
We make a number of recommendations for the future of community ownership; in particular, that it should become a routine option for communities, so it is planned and proactive rather than reactive.
We recommend that there needs to be a:
clear vision for how community ownership can become a mainstream way to deliver development and regeneration in urban and rural communities
recognition that community ownership is not an end in itself but a means to delivering wider outcomes
a shift from community acquisition being driven either by specific problems or a reaction to land coming onto the market, to being planned and proactive.
We will now work with Scottish Government to bring interested stakeholders together in a Community Ownership Delivery Group (CODG) to shape the policy tools and specific interventions needed to deliver the recommendations in the report that include:
embedding community land and asset ownership into local place planning
ensuring that targets for community ownership reflect the outcomes sought in both rural and urban communities
ensuring support for community ownership transfers is provided across the whole geography of Scotland
considering longer-term sources of financial support for both capital costs and post-acquisition development
supporting negotiated transfer of land as the norm, whilst streamlining right to buy processes.
Community ownership and right to buy has developed significantly over the last 20 years and community ownership is now seen as integral to regeneration and sustainable development in both rural and urban contexts in Scotland.
Community ownership should be seen as normal and routine, as it is internationally, for a community to acquire and own land that could provide local housing, business development, community facilities, recreation facilities, greenspace, as a fundamental way to create more vibrant communities and regional economies.
Community, communal, and municipal land ownership has a long history and is perfectly normal across much of Europe and elsewhere so the next stage of the Commission's work will be to explore what makes such ownership successful, to draw lessons that can help normalise and support further community ownership, and inform that sustainable long term vision for the sector in Scotland.
We see community ownership as one part of a much more diverse land ownership pattern in Scotland. It can unlock productivity, spread the benefits of land more widely and give people a greater stake and influence in land use decisions. We are delighted the Cabinet Secretary has accepted in principle our recommendations and we look forward to playing our part in enabling communities to take on ownership of the land and assets they need to meet their needs and ambitions.