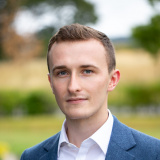 Unlocking potential – Modern apprenticeship offers project management opportunity in land reform
Bruce Morrison
Bruce Morrison, Project Assistant and Modern Apprentice, reflects on the benefits of modern apprenticeships during Scottish Apprenticeships Week 2023 in our latest blog.

At the start of 2022, I was looking for a new career. I had recently graduated with a Scottish Literature degree and had initially taken up a postgraduate in secondary school teaching, but quickly realised this was not for me. I still wanted to work in an organisation that made a difference, and knew I'd need skills beyond my degree to make this happen. It was around this time that I discovered that the Scottish Land Commission was recruiting a modern apprentice.
The Commission appealed to me because it was set up with the mission of making positive changes to the way that land is owned, managed, and used in Scotland. I was really interested in how this could help improve people's lives and how it addressed questions about how land can help to tackle issues like climate change. I wasn't an expert on land reform, so I wasn't sure if I had the right skills. Then I investigated what a modern apprenticeship entailed which gave me the confidence to apply. Modern apprenticeships are paid apprenticeships, supported by Skills Development Scotland, meaning you work for an organisation whilst studying for a qualification. In my case, this means working to support the Commission in project admin and management, whilst studying to attain a diploma in project management. This combination of day-to-day workplace experience, as well as the support of formal tuition, was a real draw for me, especially as a young person with little experience in the public sector.
Joining the Commission has been a fantastic opportunity. The way the course has been set up means that I can use much of what I produce at work as evidence towards my qualification, as well as spending a little time each week studying the course literature. I also attend monthly seminars with apprentices from other organisations like the NHS and local authorities across Scotland, which is a great opportunity for shared learning. Being able to 'earn and learn' in the same role has also been great for work-life balance and my wellbeing.
Project management is a discipline that might seem dry or corporate, but learning the basics through the course has really helped me understand how both public and private organisations are able to get things done more efficiently. The sheer amount of work that needs to be done to tackle issues like climate change and inequality can feel overwhelming, but by building the skills needed to manage projects, I feel empowered, and hopeful that one day I'll have the experience and confidence to manage a project that makes a big difference. Though I still have another year left in my apprenticeship, with lots to learn and improve on, I'm excited by the opportunities my diploma will give me in future.
As it's Scottish Apprenticeships Week 2023, I'd encourage anyone who isn't sure about next steps in their career, or wants to learn a new skill, to consider applying for an apprenticeship. It has helped me begin an exciting new career, and there's loads of options available. Visit the Apprenticeships.scot website, which will help you find what's right for you!