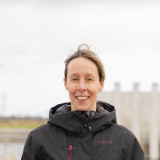 Guest Blog: National Student Award winner shares her experience
Alison Martin
Winner of our first student award, Alison Martin, a PhD student at Inverness College UHI, used the funding to attend and speak at this year's Royal Geographical Society International Conference. In our latest blog, Alison – who is investigating the governance and ownership of rural land in Scotland, focusing on decision-making around rewilding initiatives and species reintroductions – talks about her experience of using the student award funding and the difference that it has made to her academic career.
In August 2019 I was able to attend the Royal Geographical Society International Conference in London and give a talk about my PhD research – all thanks to the Student Award from the Scottish Land Commission.
The conference spanned three days, over 300 sessions, and was attended by over 1,800 delegates. I was a speaker in one of two sessions organised to explore 'Trust in Rural Land Governance.' I presented findings from a literature review and exploratory interviews and discussed the role of trust and legitimacy in the governance of rewilding in Scotland, followed by a Q&A session.
Rewilding is a very contemporary issue and associated activities – especially species reintroduction – are a significant development in land use, land management and conservation.
Currently in Scotland a range of initiatives are underway which to a greater or lesser extent constitute rewilding but we currently lack a clear structure for how rewilding decisions are made and implemented – and by whom.
This all sits within the very unique context of Scottish land ownership, the Land Reform agenda and a push for greater community involvement based on underlying principles around human rights and land use for common good.
The student award was crucial in allowing me to take this opportunity, not only to attend, but to develop my thinking on a key aspect of rural governance and work on my practical presentation skills. It gave me my first experience of a large international conference and I gained invaluable first-hand experience of talking to an audience about my research, a key stage in my academic development. It also gave me exposure to current research and ideas in rural governance and the chance to meet others working in the field. I was also able to bring back what I learned and feed this into the work of the Land Commission.
Research underpins the Land Commission's work so that decisions and recommendations are thoroughly evidence based, and we use a wide academic network to provide research on key land reform issues. To encourage involvement in land reform we have launched the Scottish Land Commission National Student Award. Any student studying at a Scottish academic institution who undertakes a land reform-related piece of research is eligible to apply for the £1,000 prize.
Speaking about the award, our CEO Hamish Trench said: "We want to develop new approaches to make the most of Scotland's land and help to build future research capacity to support land reform. We first offered an award last year through the University of the Highlands and Islands it is great that we can now extend the award nationally so that any students interested in land reform can take the opportunity to work with us and explore issues, gather evidence and spark debate and understanding."
To apply for the award, a single grant of £1000, students are asked to outline their project and show how it connects to a Scottish Land Commission workstream as well as detailing how it will benefit the applicant's student experience. Find out more and apply now.