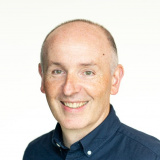 Town Centre Living – Affordable Housing, Affordable Living
David Stewart
David Stewart, Policy and Practice Lead, explores the importance of town centre living – and the difference between affordable housing and affordable living – in our latest blog.

Town Centre Living (TCL) can revitalise high streets, cut carbon emissions and support active travel. Yet few of Scotland's new homes are built in town or city centres.
The Scottish Futures Trust has published a report on Town Centre Living with input from the Scottish Land Commission and Architecture & Design Scotland. The report highlights the benefits that town centre living can help deliver:
Support for active travel

Affordable and independent living

Walkable neighbourhoods

Net zero

Land and building re-use.
Even with these benefits and the urgent need to regenerate our town centres, new developments of town centre housing are rare. The bulk of new homes are built on greenfield sites by private developers on the outskirts or our towns and cities.
Building in town centres is too risky for most developers. Issues identified include higher costs, challenges assembling sites in multiple ownership, and the cost and risk of repurposing existing historic buildings.
The bulk of the new projects (around 100 since 2016) were built for affordable or social housing. While providing new affordable homes close to amenities is positive, there is a need for private developments to deliver balanced communities.
So how can we deliver town and city centre housing, and how might the way we make decisions about land support town centre living?

Recommendations
While town centre living brings significant benefits, investment decisions by both the public and private sectors are based on financial returns. The report recommends that public bodies adopt a wellbeing approach to investment to capture the wider benefits of town centre living (such as improved health, biodiversity net gain and reductions in carbon emissions). The Scottish Land Commission published a guide to making decisions on land re-use based on wellbeing.
Scotland has a strong track record in delivering quality affordable housing. The current focus of funding tends to be on affordable housing – however, the report recommends a shift to delivering affordable living, so that funding decisions recognise proximity to amenities, jobs, and transport and look beyond the building to the wider environment.


Scottish Land Commission Work
Findings from Scottish Land Commission's research highlight how changes to the way we bring forward land for development could support town centre living. Delivering More Homes and Better Places found that if the public sector assembles land for development and shapes markets, this reduces risk for the private sector.
Tax on Land and Buildings
Reform of the way land and buildings are taxed could also support town centre living – Taxing Land and Buildings Better recommended incentives for the development of housing on vacant and derelict land, with holidays on council tax making town centre housing more attractive to developers and occupants. A UK review of VAT seems necessary to support net zero (VAT on new build is zero rated, while 20% is charged on refurbishment of buildings).
Site Information on Vacant Land – a major recommendation from the Vacant and Derelict Land Taskforce was that better information should be provided on vacant sites and their possible uses. Scotland's Digital Planning Strategy should help provide clear and accessible information.

What's next
We see more proactive land assembly being key to what public bodies can do. Some changes might need legislation, but we think there is a lot that can be done now. We will be convening a community of practice to explore better ways of negotiated land assembly, something that will help deliver on National Planning Framework 4 (NPF4). The Commission will also publish work on transparency of options agreements for housing development this spring. This will ask if greater transparency can improve the efficiency of the housing land market, allowing developers, planners and communities to collaborate on where new housing should be developed and the type of new places that should be created.
There are also significant actions from the Scottish Government that could help support town centre living. The forthcoming review and streamlining of Compulsory Purchase Order legislation should make it easier to assemble unused sites in multiple ownerships, while Masterplan Consent Areas – a tool to enable development – could support the redevelopment of neglected high streets.
Delivering town centre living is challenging, but our research showed that it can be achieved at scale. Highland Council and the Highland Housing Alliance have collaborated to deliver high-quality city centre housing across a range of sites in Inverness, while in Dumfries the Midsteeple Quarter housing development activities highlight how successful the community-led approach can be. The question now is whether this approach can be replicated across the rest of Scotland, and how the private sector can be supported to deliver housing for sale and market rent in our town centres.



Find out more about Scottish Futures Trust and Architecture & Design Scotland.