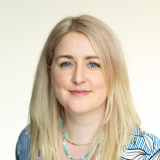 Urban land and communities – Shaping the future
Gemma Campbell
In this blog, Good Practice Manager Gemma Campbell looks at community engagement in an urban context and sets out what the Commission is doing to support this.
We recently published two reports on community engagement in urban areas, 'Land and Communities: Beyond the Echo Chambers' – delivered in partnership with SURF, Scotland's Regeneration Forum – and a second report delivered in partnership with Young Scot. These reports highlight some of the challenges faced in urban areas when it comes to getting involved in decisions made about land and considered how we could better understand the specific challenges and identify opportunities for practical change.
The 'Beyond the Echo Chambers' report was based on findings from three facilitated stakeholder events, held in Govan, Kirkcaldy and Rothesay, following SURF's 'Food for Thought' model. The research focussed on 'less well heard' urban communities – disempowered through poverty, inequality and exclusion – and looked at how to enable them to contribute to land use decision making. Meanwhile, the Young Scot report focussed on the experiences of young people and explored their understanding of, and relationship with, urban land in their communities.
We found similarities in both sets of work, with participants identifying a sense of powerlessness and distrust when it comes to land issues, and many feeling they lacked understanding of who owned land and how decisions were made. This was compounded by a perceived lack of transparency and a sense that there were insufficient resources available to support urban communities to participate. There was, however, a willingness to get involved and a desire from communities to influence what happens in the spaces around them.
The people involved in the studies identified asset maps – seeing what is actually available for community control or ownership, improved transparency, enhanced post-acquisition support and better understanding and promotion of the value of genuine engagement with the community as ways to improve the current situation. They want to know who owns which assets and what their plans are, how those plans will impact their community, and what the opportunities are for getting involved and for making use of or taking on assets.
So, what can we do to support this?
We introduced our first protocol, on Engaging Communities in Decisions Relating to Land, in January this year, and we continue to promote it across the country. It is the first part of our good practice programme, which will be an integral part in effecting the culture change that is required to make the most of Scotland's land. The protocol sets out practical advice on how landowners, land managers and communities can work together to make better – and fairer – decisions about land use in both rural and urban Scotland. We continue to develop this programme and will be tackling issues around responsible land re-use, transparency in relation to ownership and decision making, and early stage (pre-planning) engagement through the development of further protocols and guidance, and providing training and raising awareness of good practice and the benefits it brings to landowners and communities.
We will be working with communities to get involved in land-use decision making processes at an early stage and we will be encouraging landowners to engage earlier and involve communities in decision making processes.
This approach is reflected in national policy, where there is a focus on the 'place principle,' which means that those who are responsible for services and assets in a place should be planning and making decisions in collaboration with the local community. It promotes shared understanding and participative processes to ensure that resources, services and assets are directed and used in ways that best serve the needs of the community. This approach offers a great opportunity for communities to get involved and have their say.
Our urban engagement work links closely to the work of the Vacant and Derelict Taskforce. We have learned from the SURF and Young Scot reports that care needs to be taken to ensure that policies intended to empower communities do not inadvertently increase existing inequalities. In 2018, 58% of people in the most deprived SIMD areas, many of them urban, were estimated to live within 500 metres of vacant and derelict land (compared to 11% of people in the least deprived areas). Our recent work on vacant and derelict land explores the impact of derelict land on communities and proposes a tool for measuring this. We will be working with key urban partners and communities to test and refine this tool.
Ultimately, what is needed is a collaborative approach, backed up by a co-ordinated programme of information and support and effective and open communication from all parties. This will be key to ensuring that urban land is used in a way that is fair, inclusive and productive, and that helps communities to realise their opportunities and ambitions.
We look forward to working closely with key stakeholders, including SURF, Development Trust Associations Scotland and Community Land Scotland, to ensure a co-ordinated approach to engagement in our urban spaces.